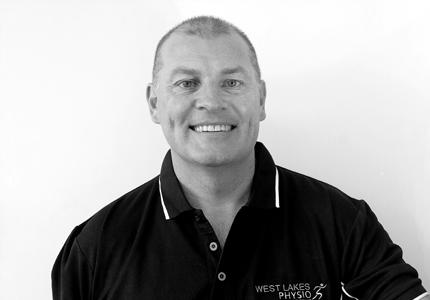 Meet Mark Nagel
Mark is an *APA Titled Sports Physiotherapist and started working in the clinic in 2001 and became one of the partners in the business in 2004. Mark has worked for the Adelaide Football Club for over 17 years and has only recently finished to concentrate on his clinic work. His career highlight was being selected as Physio for the Australian International Rules football team and traveling to New York and Ireland. Being an avid sports fanatic, Mark has a special interest in sports injuries of all types and loves helping people get back to their chosen sport.
Mark has over 30 years of private practice experience in rural South Australia and the city treating all types of injuries and has previously worked in hospitals and overseas in the UK.
Mark's Mantra:
• Treat people like you want to be treated
• Happiness is a choice
**The APA Physiotherapist Title represents a physiotherapist who is highly qualified in a particular area of practice and has undergone a rigorous process to demonstrate their physiotherapy experience and knowledge.
Qualifications
Bachelor Applied Science (Physiotherapy)
Master of Applied Science (Sports Physiotherapy)
Titled APA Sports Physiotherapist
Member of Sports Medicine Australia

Clinical Interests
Hamstrings, knee pain and lower limb sporting injuries
Personal Interests
Spending time with the family, travel and watching/playing sport.