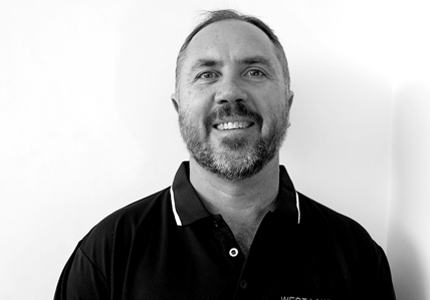 Meet Tim Cook
Tim is currently a physiotherapist for the Adelaide Football Club in the AFL and joined the team part-time in 2020. Whilst focusing on elite sport, he retains a passion for assessing and treating patients in private community practice. Tim also has over 20 years of experience covering clinic treatment, exercise prescription, worksite and ergonomic assessments, pre-employment medical screening, hydrotherapy, rehabilitation, Real-Time Ultrasound muscle re-training, and teaching Pilates.
Tim's Mantra:
'Attitude is a little thing that can make a big difference.'
Qualifications
B.App.Sc. (Physiotherapy) Uni of SA 1996
Masters in Sports Physiotherapy (Latrobe) 2019
APA Titled Sports and Exercise Physiotherapist

Clinical Interests
Tim has a particular interest in spinal, groin, knee and tendon injuries. However, he is keen to listen to, assess and treat anyone, with any injury.
Personal Interests
Tim enjoys watching his two sons play sport, has the occasional hit of golf and sneaks the odd spot of fishing off Wallaroo.